PRODUCTS



ROUND BARS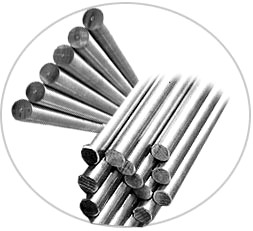 We stock Stainless Steel, carbon and alloy special steels and supplies in rolled, annealed and normalized conditions.
We offer cut to size and heat treatment through our service centre.
We also stock flats, Hexagonals, Triangle Bars, Square Bars, Half Round products in ious various dimensions and grades. We offer a speedy delivery service in order to get your your products ready in time.
User Industries:
Chemical Plants & Fertilizers, Sugar Mills & Distilleries, Cement Industries, Ship Builders, Paper Industries, Petrochemicals, Oil & Natural Gas Organizations, Refineries & Heavy Machinery Plants in terms of the specific materials, Technology & Finance.
Product Range:
The following table represents size range, product standards and material grades of Round Bars.
DESCRIPTION

SIZE RANGE

SPECIFICATION

GRADES

STAINLESS STEEL

BLACK & BRIGHT

3 mm to 300 mm

Round, Hex and Square

ASTM A276
ASTM A314
ASTM A582
ASTM A479
ASTM A484

304, 304H, 304L, 309, 310, 316, 316L,
321, 347, 347H, 904L, UNS
S31803


CARBON STEEL
ALLOY STEEL
SPRING STEEL
HIGH SPEED STEEL
TOOL STEEL
PLASTIC MOULD STEELS
OFFSHORE OIL FIELD STEELS


3 mm to 600 mm

Round, Hex and Square

IS 2062 Grade A, B, C

 ASTM A105, LF 2

BS 970 EN-8, EN-9, EN-19, EN-24, EN-30, EN-31, EN-36,EN-45, EN-47
ASTM A182 F5, F9, F11, F22, F91

T1, T2, T4, M1, M2, M3, M4, M35, M42

H10, H11, H13, H14, H16, H19

D1, D2, D3, D4, D5, D7, AISI S7,

P20, DIN 1.2311, P20+Ni i.e. DIN 1.2738
17-4 PH i.e. AISI 630, 4130, 420, 410